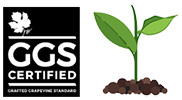 The New Zealand Winegrowers Grafted Grapevine Standard (GGS) was developed by New Zealand Winegrowers in 2006. Its purpose is to provide assurance to growers, viticulturists, winemakers, and other stakeholders, that the grafted grapevines they purchase are considered "high health plants".
Nurseries must follow documented procedures for the production of grafted grapevines based on an analysis of risks using HACCP, NZS4360 Risk management or similar standard. All aspects of the nursery operation must be audited against the GGS annually.
This audit is completed by the WAI verification team on behalf of the Biosecurity section of NZ Winegrowers.
---