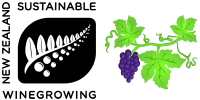 The Sustainable Winegrowing NZ (SWNZ) programme is based on continuous improvement and adherence to recommendations and guidelines issued by the International Organisation of Vine and Wine (OIV), for New Zealand's wine industry, it represents a commitment to protect the places that make our wines across our country.
SWNZ is widely recognised as a world-leading sustainability programme and was one of the first to be established in the international wine industry. Sustainable certification must be awarded through an independently audited programme - either SWNZ or a recognised Organic or bio-dynamic certification.
WAI verification is contracted to undertake the audit program for the vineyards and wineries, registered to this program.
---